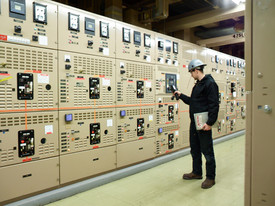 Action Electrical is a proud licensed TEGG service provider with years of experience in electrical distribution preventative maintenance. 
What is TEGG?
TEGG is a highly regarded worldwide organization that trains and licences contractors in the TEGG System; a method to prevent unplanned downtime and to protect employees from dangerous electrical hazards.
The TEGG System employs world-class strategy, innovative technology, and ongoing support in order to help contractors provide clients with the very best and highest standard of electrical preventative maintenance. 
As a generational family business, Action Electrical is committed to designing, constructing, and maintaining the highest quality electrical systems. This includes a long and extended system life, decreased risk to your property, and preventative safety measures by utilizing methods such as infrared thermography and ultrasonic testing for the wellbeing of your employees through TEGG preventative maintenance.