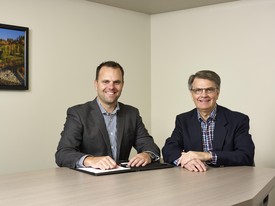 In 1973 Don Bunting was just a young man in Sherwood Park with a growing family to provide for. Don was a naturally gifted craftsman with a strong aptitude for business. Relying on his innate skills in order to feed four hungry boys, Don created his own electrical company right in his own basement - Action Electrical. 
Don soon realized the high demand for his electrical contractor services. It was only a few years later the demand became so high Don needed to expand. He bought his own building and never looked back.
Over the years Action Electrical naturally grew to where "it had to go" (as Don puts it). "The truth is we were never just an electrical service company, we did whatever had to be done. When no other contractor would do lighting maintenance or a small repair project, we would be the business that would never say no." Other contractors even refer clients to Action when they don't want to take a job. 
Don Bunting made a very smart move never refusing a client or job. Beyond a stunning reputation, he has crafted a company that is full-service and offers complete electrical contractor services of the highest quality from beginning to end. In other words, a one stop shop. "It has allowed us to create the capacity to do far more than the average electrical contractor" Don (humbly) notes.