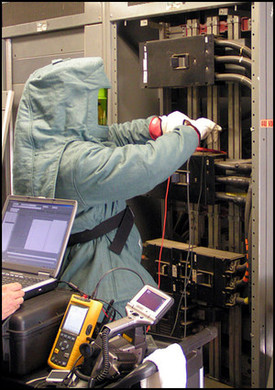 Action Electrical offers the following TEGG electrical distribution preventative maintenance services:
Power Quality Assessments
By testing and analyzing your electrical systems we'll be able to identify areas that need to be corrected before you lose out on data, time and money. We provide comprehensive data logging and analysis reports on power quality that help you address power factor issues and ultimate help to save you money.
Phase balance testing
Phase balancing testing allows us to address unbalanced components that increase power-quality problems and total harmonic distortion, as well as increased temperature rise of devices and current-carrying conductors. 
Infrared detection
Infrared thermography cameras help us measure and take pictures of your electrical equipment in order to identify high-resistance electrical connections, defective circuit breakers, current overload conditions, and defective insulator conditions. Infrared thermography is one approach to reduce the risk of loss of power and safety and fire hazards that could be caused by high-resistant or loose connections. Identifying these conditions protects your business from downtime, loss of production, and equipment failures and fires.
Ultrasonic testing
By measuring and recording sound waves and/or vibrations that are above audible sound, we are able to determine if there is corona discharge, tracking, arcing or vibration present. By using ultrasonic testing we are able to assure the quality and integrity of your electrical system. Used to complement the infrared testing, ultrasonic testing can uncover additional problems that infrared imaging cannot see.