In the Media: A Full Circle of Service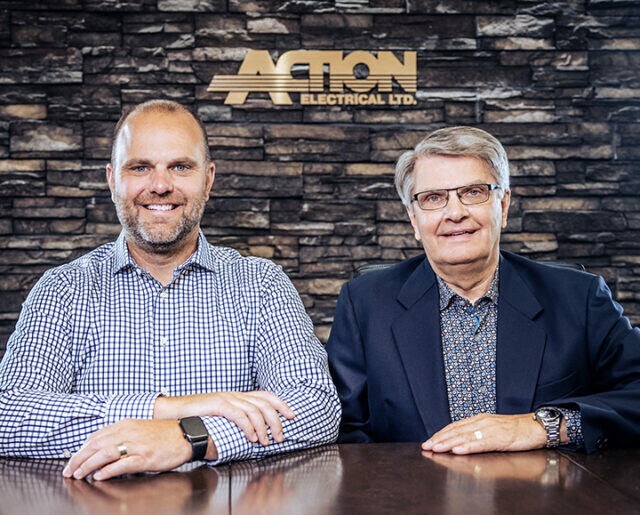 One Call to Action Electrical Does It All
Over the course of 50 years, Action Electrical Ltd. has built a brand unlike any other. As a full service provider, one call gives clients access to a full circle of care: projects, service, TEGG and energy.
It all started with Don Bunting, who was mechanically minded from a young age. He was one of those youth that took things apart to see what made them tick. His curiosity was spurred on when he got a job with his friend's father, an electrical contractor. After that, there was no turning back. The ability to take things apart or build them from scratch and make them "go" fueled his desire to become a journeyman and master electrician. After completing studies and apprenticeships through SAIT and NAIT, and after nine years in the trade, he opened Action Electrical in 1973.
Like most entrepreneurs, Don started his business from home. The garage was the warehouse and a room in the home was an office. It didn't take long, however, for that to change. Just two years later the growing business moved into a rented space. By 1977 they were on the move again, this time to their own building due to the need of larger space for continued rapid growth.
Today the thriving brand is a family business with Don's son, Blake, overseeing the divisions as general manager. Along the path of half a century of service are many milestones. Action Electrical's stamp is on numerous schools, churches, office buildings and warehouses across Canada.
Although Action Electrical had branch offices in Mississauga and Kelowna and completed major projects in both regions, the Buntings' main focus is in Alberta. The team also appreciates the business model that provides security despite times of economic uncertainly. Low turnover and a strong corporate culture empower each team member and drive long-term loyalty.
"With our four different divisions, we have the capability to move people around and to keep them employed year-round," explains Blake.
Those different divisions are what drive Action's full circle mandate. Blake explains how this works: "At the time the building we are constructing is energized, our TEGG technicians come in and complete a quality control inspection on all of the electrical distribution. We use our infrared camera and ultrasonic instrument to go through all the electrical distribution in the building. At that point, we determine if there are any electrical anomalies. Then, Action repairs deficiencies and creates a report. We meet with the owner and general contractor and show them everything we determined through our general inspection. We hand off the next year's warranty to our service manager and he becomes the point of contact for warranty repairs. It's a team approach. Our goal is to maintain that building and retain that client for years to come."
Don adds, "Speed, accuracy, precision, response. At Action, we exhibit these qualities in our work ethic, company integrity and quality workmanship. We are a diversified electrical company accepting jobs as a challenge, completing them on schedule and within budget. Action's leadership team is committed to embracing the principles of total quality to ensure successful completion of your projects. Our goal at Action is, above all, customer satisfaction and we are committed to doing whatever it takes to achieve that goal."
The years have seen many successes, but there have also been many challenges. For the Buntings, some of those have been intensely personal. Don's son and Blake's brother, Brooks, passed as the victim of a drunk driver. Some challenges have been bittersweet. Don's wife, Grace, was an integral part of the company from the start. Upon her retirement in 2012, the staff renamed the boardroom Graceland in her honour. There have also been some intense tariff wars, both interprovincially and cross-border, that impacted the electrical industry; and, of course, it is impossible to ignore the impacts of COVID that touched every business across the province with effects ranging from staffing to material shortages, and from shipping to whole building shutdowns.
Don takes a pragmatic, realistic view of it all. "You have breaks and you have challenges. It all comes down to hard work, relationships and being able to hire and retain good people. People are the heart and soul of the company, so as long as we are taking care of our team, we are rising above every challenge."
From the business in a garage to a family business working on Edmonton's most iconic structures, there is nowhere to go but up. Action Electrical's full circle service provides a unique industry solution along with reliable, local work for the team. Cross department training increases retention and empowers the staff with opportunities. A growing list of innovative projects keeps Action Electrical moving forward. Full circle means Action Electrical will take action on each project from conception to completion – and beyond. It also means each team member is taken care of with an outstanding corporate culture and with opportunities for training and advancement. It means a future where Action Electrical will continue to have a positive impact on the city, on its team, in the community – and beyond.
All in the Family
The parents are rightly proud of all of their sons' career choices, including Brad's success as a mortgage broker and caterer and Damon's success as a Realtor. For Grace and Don, the family business is there, but it is more important to see their children follow their hearts.
For Blake, that meant working with his father – although he jokes it kind of happened by accident. Don asked seven-year-old Blake to come to work with him for an afternoon and Blake found himself sorting fasteners for hours on end. The work was tedious, but it lit a spark. He continued to work at Action Electrical during summer holidays and then went full-time in 1996. Blake moved away to attend college in Missouri on a football scholarship and even proposed to his wife, Jill, on the field. He was later drafted by the Edmonton Elks but the desire to return to Action Electrical was strong, and he could not ignore that spark. He left the sport for the trade and re-joined the business.
Every team member at Action Electrical is part of the family. Several have been there for more than 40 years. These teammates include two which worked into their 80s, Les Fitz, who was with Action for over 40 years and Peter Kutny for over 25 years. The Kutny Putz Golf Tournament, hosted by Action Electrical, is put on in his honour.
Long-term employees include the following:
15 years
Jared Buchan & Eoin MacDonald
17 years
Adam Kaminski & Steve deVarennes
20 Years
Shane Vader
21 Years
Don Wills & Rigoberto Batres
25 Years
Harold Potratz, Keith Stockbrugger
& Peter Kutny
27 Years
Kevin Wolshlager
34 Years
Boyd Shapansky
40 Years
Les Fitz
2333 91 Ave Edmonton, AB T6P 1L1
Phone: 780-465-0792 • Fax: 780-469-5407
www.actionelectrical.net