Benefits of Installing Smart Lighting for Business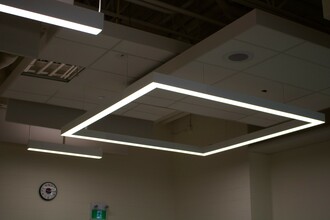 Many forward-thinking businesses are starting to install smart lighting options through lighting retrofits and utilize the Industrial Internet of Things (IIoT) to improve operational efficiencies of both industrial and commercial facilities. IIoT is commercial networks that have been built around smart home functionality but for the commercial sector.
These intelligent lighting systems have become more and more popular worldwide for a number of reasons, the first being the return on investment through measurable energy savings.
Though the initial costs of having a commercial electrician come in to retrofit your existing lights to smart lighting options can be high the combination of advanced control over settings such as task tuning, daylight optimizations and intelligent LED systems that automatically turn on and off based on movement or time of day can result in up to 90% in energy savings.
Other benefits of moving to smart lighting options is the ease of control and the ability to change settings from your mobile phone, the option to further your sustainability initiatives and build on to your smart hub with non-lighting related controls such as heating and security systems.
Action Electrical has worked with many companies in and around Edmonton to upgrade and retrofit lighting. We are able to work with our clients to design and build customized lighting options. If you are interested in installing smart lighting for your business, give your local commercial electrical contractors, Action Electrical, a call today!